News & Events
Thursday 3rd December 2009
RI-Wine of Ascot wine tasting at Barton Wyatt's Magazine & Website Launch
RI-Wine of Ascot will hold wine testing on Bartonwyatt.tv launch which will take place at Foxhill Golf and Country Club, Ottershaw, Surrey. The information about RI-Wine of Ascot business and services will be published in December 2009 issue of Barton Wyatt Surrey Magazine.
Brunello's and Montalcino Wines from prestigious Estates available at RI-Wine
Montalcino Estate
Story of the estate:
Taken over a year ago by a significant private individual from America. The owner is reputed to have the finest collection of wines in America. He has set up a private dining restaurant in New York with 4000 of his favourite wines from his own collection on the list and food to match.
Krug restaurant aims to be a pinnacle of vinous delight. He has bought the estate after years of research and is just beginning to make his own wines. This Rosso is his first, and already shows the direction of quality he is going in. An estate to watch.
Rosso di Montalcino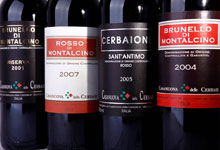 Brunello & Rosso di Montalcino
A smooth wine, but with significant structure and tannins, and persistent hints of fresh but well-ripened fruit. It comes from the firms same vineyards used to produce the Brunello.
Soil composition:
Mixed argillaceous, rich in skeletal material
Average altitude of the vineyards:
250 meters above sea level
Grapes:
Large Sangiovese grapes called a Brunello in Montalcino with the denomination cascade.
Method of growing:
Balanced, bilateral cord
Grapes-harvesting:
Manual choice of grapes in perforated cases delicately unloaded directly into the hopper of the stemmer.
Winemaking:
Intense extraction with frequent pumping over of the must during the initial stages of fermentation followed by medium quiescent steeping on the dregs of the pressed grapes. Careful control of the temperature to a maximum of 20 °C, then to decrease freely until racking time
Aging:
In new Slavonic oak barrels, refined in bottle for a minimum of four moths in an air-conditioned room. Degree of alcohol 13,5 % vol.
Organolectic characteristics:
Red, intense ruby colour With violet nuances, limpid. Full persistent fragrances, fruity hints well blended with woody scents. Significant structure and tannins, smooth with persistent hints of fresh but well-ripened fruit.