News & Events
April 2009
Fattoria Nittardi Press Release. A new label by Tomi Ungerer.
The Merry Wives of the Winery
Tomi Ungerer painted the new label 2007 of Nittardi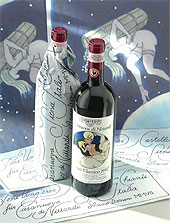 Chianti Classico 2007 from Fattoria Nittardi
A bacchanalia. The smallest orgy in the world, on just 11.5 x 8.5 centimetres – on the artist label of the Chianti Classico 2007 from Fattoria Nittardi, one of the most celebrated wineries of Italy. Tomi Ungerer – a born Strassbourger, a confirmed Alsacien, a convinced European – created the label. Ungerer: A world-class graphic artist, author and illustrator; a rogue and magician, erotomaniac and provocateur.
"An obsessed draughtsman," is how Werner Spies, the former director of the Museé National d'Art Moderne in Paris and one of the leading connoisseurs of contemporary art once described him. "The brilliant Tomi Ungerer, fixated on throwing convention and niceties into turmoil."
And Werner Spies continues: "The insatiability that is reflected in his work causes one, even when the comparison may sound paradoxical, to think most likely of Picasso. For with the Spaniard, hidden behind the fury of the worker was also the constant search for contradiction and variety. And last but not least, sexual motives stood in the foreground of the work."
As with Ungerer's Nittardi wine label. "Suddenly an idea comes, and then it gets going," says the 77-year-old, "usually at full moon." Hardly surprising then that the moon, plump and round, illuminates the scene on the wine bottle: Five equally plump and round female posteriors and luscious thighs that just barely protrude from the mountain of grapes. The nymphs are diving down into the grapes as if they are searching for something – for their innocence, perhaps, that they have doubtlessly long lost.
The merry wives of the winery. A sensualistic, voluptuous round dance at the merry winery, danced to the seductive tones of the flute of Pan, who is playing his instrument in the middle of the well-proportioned buttocks. Diabolically, lasciviously.
For the 27th time now, a great artist has designed both a limited-edition wine label and corresponding wrapping paper for Nittardi. "In tribute to Michelangelo Buonarroti, the famous former owner of the winery, we will continue the tradition," says the gallerist and
winemaker Peter Femfert who, together with his Venetian wife Stefania Canali, has been
cultivating the fantastically situated estate located in the heart of Tuscany between Florence and Siena since 1981. With great success.
When perusing the procession of 27 wine labels on a poster of Fattoria Nittardi, one sees that by now seven artists have chosen an erotic motif. Not at all surprising with some, with names such as Alfred Hrdlicka and Paul Wunderlich, Horst Janssen and A.R. Penck, Elvira Bach, Sandra Brandeis Crawford and Volker Stelzmann.
And now, the great Tomi Ungerer. Intense and luscious, full-bodied, vigorous, expressive – as top wines are often characterised. The artist has already kept these promises on the wine label. And the Nittardi wine, vintage 2007, also promises the same: A bacchanalian pleasure.
| | |
| --- | --- |
| | |
| Artist label by Tomi Ungerer | Special silk-paper of the bottle |
Casanuova di Nittardi Chianti Classico 2007 available in June 2009
Price per bottle - £
Price per case with 6 bottles - £