Nobel prize-winner Gunter Grass designs Fattoria Nittardi label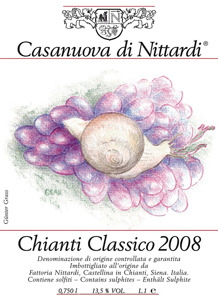 Fattoria Nittardi label 2008,
designed by Gunter Grass
Nobel prize-winning German author Gunter Grass has designed the label for the latest vintage of the top Chianti Classico produced by Tuscan winery Fattoria Nittardi.
Grass, also a sculptor, painter and draughtsman, chose to depict a snail on a cluster of grapes for the label and wrapping paper of the 2008 vintage of Casanuova di Nittardi, which goes on sale in November.
The celebrated 83-year-old author of The Tin Drum is the latest in a long line of artists commissioned to design labels for Casanuova since 1981, including Yoko Ono, Tomi Ungerer, Horst Janssen and Friedensreich Hundertwasser.
Nittardi said Grass had decided to 'play upon a mythological motif that is thousands of years old' by depicting a cluster of grapes on the label.
The snail plays an important role in Grass' works, most notably his 1972 book Aus dem Tagebuch einer Schnecke, translated as From the Diary of a Snail.
Grass was awarded the Nobel Prize for Literature in 1999 and is regarded as a key voice in the European magical realism movement.
Book your Orders now to get some bottles with this famous Label again.