Taittinger Collection
RI-Wine has been working with Hatch Mansfield for long time and always had good relationship. Famous companies are part of their portfolio like Taittinger, Jadot, Caliterra, Grant Burge, Esk Valley, Lourensford and others.
Recently the famous company C.V.N.E., an outstanding Rioja House has joined the Hatch selection and we are pleased to offer the full range which includes
Monopole,
Cune,
Imperial,
Vina Real,
Contino - the first single estate winery in Rioja founded in 1973.
---
Taittinger Collection Glasses
Hand made Crystal Glasses to compliment the Taittinger Collection
Four crystal glasses, decorated with a detail from Amadou Sow' Taittinger
Price per box of 4 glasses - £152.95 + VAT
---
The Taittinger Collection - 12th collection bottle
"Cosmic Pearls" by Amadou Sow
The champagne cuvée which accompanies the Amadou Sow bottle is the Brut Vintage 2002
A limited edition: 7000 units worldwide (less than for the previous Collection bottles).
Each will be numbered.
Amadou Sow, a Senegalese artist
Born in 1951 in Saint-Louis, Senegal, Amadou Sow grew up on Gorée Island. From a young age, he developed the foundations of his art, rooted in the soil, the sand and the rocks; the very materials that gave him self-expression. He began his artistic career with rock sculptures in the 1970s, turning then towards rigid and transparent plexiglass, and finally to ceramics.  
The artist's paintings reflect his life, coloured by journeys and encounters. In 1972 Sow settled in Vienna where he attended the prestigious 300-year-old Academy of Fine Arts.
He describes the the universe as being at the heart of the artist's mission which he aims to convey as a message through his paintings.
The 2002 harvest
2002 was marked by low rainfall and a relatively mild winter. The summer was a succession of hot, sunny days. Shortly before the harvests, the rain arrived but soon disappeared, giving way to sunshine once more. Unusually for Champagne, instead of growing after the rain, the bunches of grapes lost weight through lack of water. After this great harvest lasting from the middle to the end of September, there is no doubt that 2002 is a good vintage.
The first tastings revealed well-rounded, supple, open and mature wines. The Chardonnays are long, sweet and very aromatic with, according to the cru, a dominant floral or fruity flavour. The Pinots Noirs are full-bodied, rich and generous with suggestions of red fruit.
Tasting
The wine is a splendid golden straw colour. The very fine bubbles rise in numerous strings which spread out to form a fine, persistent necklace.
The nose presents a slightly mineral aroma preceding an intense and delicate fruitiness. The aromas are of sweet citrus fruits such as clementines associated with subtle suggestions of tea, menthol and liquorice.
The first impression on the palate is strong then quickly full. The mid-palate is rich, well-rounded and supple with a wide range of fruity and cakey flavours including fresh apricot and brioche. The finish is long and complex.
In conclusion, Taittinger Brut Millésimé 2002 is a great Champagne offering a rich and harmonious aromatic palate. Its dominant fruity flavour has remarkable finesse and elegance.
Drinking suggestions
An ideal aperitif, this wine also goes very well with white meats in sauce, such as a blanquette of veal with girolles.
---
2008 Edition of The Taittinger Collection
Rauschenberg 2000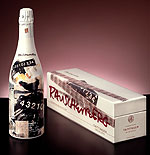 The latest Taittinger collection was produced from the 2000 vintage and the bottle created by the well known American artist Robert Rauschenberg. Made from the first press wines, the blend is 50% Chardonnay and 50% Pinot Noir. It is pale gold wine with toasty aromas and a concentrated, complex palate with a long, elegant finish.
It is a limited edition and is the 11th Taittinger Collection wine, and is a "Collector's" wine.
Price: £165.95 (+ VAT)
Pop art pioneer Rauschenberg dies
Robert Rauschenberg, one of the towering figures of 20th-century art died at his home on Monday night the 12th of May. He was 82.
Rauschenberg, perhaps most famous for his 'Combines' of the 1950's, was one of the celebrated figures of the pop art scene, often using 'found' material in his iconic works. He was the first Amercican artist to win the Grand Prize at the 1964 Venice Biennale, one of the art world's most prestgious honours.
Rauschenberg was named one of 'the century's 25 most influential artists' by the influential magazine ARTnews in 1999. He was also the first living American artist to be featured by Time magazine on its cover.
Daily Telegraph 14th of May 2008
---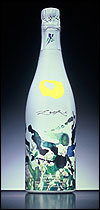 Zao Wou-Ki
Price:
per bottle - £218+vat,
3 bottles - £576+vat
Fusion Art - Taittinger Collection
by Zao Wou-Ki
Edition 2006
After Victor Vasarely, Arman, André Mason, Viera da Silva, Roy Lichtenstein, Hans Hartung, Toshimitsu Imaï, Corneille et Matta, Zeo Wou-ki has agreed to create a new work of art for the Taittinger Collection.
After attending the very prestigious Hangzhou Fine Arts Academy, he moved to France in 1948. He then discovered all the famous western painters and began this admirable synthesis marrying Chinese traditional art and European art, between the East and the West.
Zao Wou-Ki is probably the most moving of all the abstract modern painters of the 20th century.
Vineyards
1998 Taittinger Brut Millésimé is composed of 50% Chardonnay and 50% Pinot Noir. The Chardonnay grapes are mostly from the Grands Crus of the Côte des Blancs and the Pinot Noir grapes are from the crus of the Montagne de Reims and the Vallée de la Marne.
Winemaking
The harvest began in the rain of mid-September, but the sun soon returned to
save a bumper harvest and guaranteed good maturity. The alcohol-acidity combination and rates among those of the best harvests. First tasting emphasizes straightforward, distinct and clean wines.
Winemaker Notes
Taittinger only makes a vintage champagne when the harvest has been of such outstanding quality. The wine is then only released after several years of
ageing in the cellars, allowing the aromas to mature slowly and the length and complexity of the wine to develop.
Sold out
Winemaker's Comments
The 1998 Taittinger Brut Millésimé is pale gold in colour and has a rich effervescence which forms a very dense necklace of mousse. It has a very fine nose and a good intensity of fragrance.
The initial perfumes of white flowers give way to a fruity dominance with a subtle mineral touch. The scent of citrus can also be discerned, with sugared grapefruit and a hint of baked crusty bread.
The first sip is sharp, delicate and complex, with the taste of fresh citrus fruit. It is well-rounded, full and richly constituted with an attractive effervescence. The finish is long and fresh.
Ideally enjoyed at the beginning or in the middle of a meal as a delicious accompaniment to white meats. It is perfect with blanquette of veal In conclusion, it is a champagne of extreme freshness, fine balance, keen intensity and consummate aromatic harmony. A wine of charm and passion.
Grapes
Pinot Noir 50%
Chardonnay 50%
Region
Montagne de Reims
Vallée de la Marne
Côte des Blancs
Ageing
4 years
Alcohol by Volume
12%
Total Acidity
4.4 g/l
---
Champagne Accessories from Taittinger
Cooling Bowl for Taittinger Champagne (can hold 3 Magnum bottles)
Price: £350.95 plus VAT
Pupitres Champagne Bottle Rack (2 x 9 holes)
Price: on request
Cooling bags for different size bottles
Single bottle bag - £9.95 plus VAT
Magnum single btl. bag - £16.95 plusVAT
Tattinger Ice Packet alluminium
Single bottle - £29.95 plus VAT
Magnum single - £38.95 plus VAT
Tattinger Contemporary "Odyssey" alluminium packet
Price: £32.95 plus VAT
Tattinger Magnum Contemporary "Odyssey" alluminium packet
Price: £39.95 plus VAT
Tattinger Ultra Premium "Odyssey" Pewter Packet
Price: £32.95 plus VAT
Tattinger Ultra Premium "Odyssey" Tin Packet
Bottle and Magnum size
Price: £495.95 plus VAT
Tattinger 6 bottle Cool Bag
Including handle and shoulder strap
Price: £99.95 plus VAT
Range of Accessories available. Please request list and prices.
Tealights, Silver Tray, Cufflinks, Aprons, Shirts, Golf Umbrellas, Ties, Head Scarf, Gents
Watch, Ladies Watch, Twin Pen Set and many more
All prices excl. VAT