Art in The Bottle. Fattoria Nittardi wines

Abe and Joanna met Stefania Canali in Ascot just over a year ago. She and her husband Peter not only the owners of the Nittardi vineyards but they also own an art gallery in Frankfurt. At the same time Peter was preparing his stand at the World Fine Art Fair in Moscow.
Stefania had some of the Nittardi wines with her so we arranged a quick lunch at Ciao 90 in Ascot and we were joined by the owner and some of the staff of Ciao 90 to taste these delicious wines.
Fattoria Nittardi Vineyard was started by Michelangelo Buonarroti in 16th century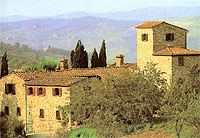 Fattoria Nitardi is a traditional wine growing estate, situated in the centre of Tuscany between Florence and Siena. The old wine estate used to be a strong hold tower and was first mentioned as "Nectar Dei" in the 12th century.
During the 16th century it belonged to Michelangelo Buonarroti who grew his own vines. The quality of the wine was so impressive that Buonarroti sent several bottles of Nittardi to Rome as a "dono genuino" as is written in the letters he sent to his illustrious patrons, Popes Julius II and Leo X.
Today, 12 hectares of vineyards, olive groves and 100 hectares of unspoilt woods encircle the Nittardi Estate. It lies in the middle of idyllic protected countryside and is 8 km from the nearest village, Castellina in Chianti. The vines at Nittardi grow on an ideal site right in the heart of the Chianti Classico region, at about 450m above sea level on the south side of a range of hills. These hills are covered with oak trees that offer protection from the cold winds.
---
Art on the Bottle
Nittardi has a long history in the world of art, which continues today. Every year an artist designs a label as well as the wrapping paper, which is used for a limited edition of Casanuova di Nittardi wine bottles.
The collection which started in 1981 includes works by internationally known artists such as Valerio Adami, Eduardo Arroyo, Elvira Bach, Corneille, Friedensreich Hundertwasser, Alfred Hrdlicka, Horst Janssen, A.R. Penck and Paul Wunderlich and the 2006 Label was designed by Yoko Ono. .
Since the so-called 'wine miracle' which saw an incredible increase in quality during the 1980's, Chianti Classico is traditionally made from the regional Sangiovese grapes. Only 5% of Cannaiolo grapes are added to the wine to make it smoother and rounder.
This Nittardi wine is treated with special care and attention in the vineyards as well as in the cellars. After being cask aged for at least six months the young wine eventually matures into an elegant, richly flavoured red wine which can be aged for long periods of time.
---
Nittardi Chianti Classico Riserva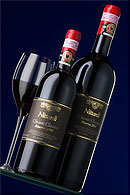 This Nittardi Chianti Classico Riserva is made from only the best pressings of the Sangiovese grapes from the original Vigna Alta of Nittardi. It is vinified separately and aged in French oak barrels for a period of at least 24 months which transforms the quality of the wine.
After bottling, the wine is aged for a further 3 to 5 years in order to expose its full potential. The wine develops a harmonious character full of depth and intensity due to the long maturation period. It is well respected and appreciated in the world of high quality wines.
In these past years Nittardi Riserva was not only awarded the 3 Glasses of Gambero Rosso but also the 5 Star Decanter Award and the highest valuation by the Grand Jury Européen; it was also judged by I Vini d'Italia as best Chianti Classico of its year, with the 5 Bottle title of Vino dell'Eccellenza.
---
Ad Astra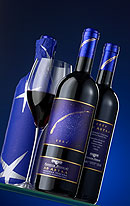 Ad Astra, a wine made from Cabernet Sauvignon, Merlot and Syrah grapes, is the younger brother of Nectar Dei, the super premium wine of Fattoria Nittardi.
Ad Astra was approved by the Vatican and by the Pope Benedict XVI (see postcard from the Pope Benedict XVI to Fattoria Nittardi).
Due to the touch of added Sangiovese and a short period of maturing in French oak barriques, Ad Astra develops its very Tuscan personality. The vines grow in the Maremma in southern Tuscany on the blessed hills of Mongibello delle Mandorlaie overlooking the Monte Argentario.
After the preparation of this vineyard in 1999, he first outstanding vintage was bottled in 2004.
At a Decanter tasting in May 2006 Ad Astra IGT Maremma received excellent critics, "with an aroma of Liquorice and red berries, and a flavour that is light in body with an enjoyable finish". Super Tuscan Ad Astra indeed takes us to the stars.
---
Nectar Dei
Decanter Magazine Award Winner (April 2007 Vol. 32 No 7)

Fattoria Nittardi, Nectar Dei,
Maremma Toscana 2004
"Big, sweet and tarry with quality oak. Modern, concentrated fruit with good acidity and tannins. Up to 5 years" (PM)

Nectar Dei, the Maremma IGT of Fattoria Nittardi, the new Super Premium wine by this small Chianti Classico estate, grows in the Mongibello delle Mandorlaie hills, a specialized area lying between Scansano and Montiano in the southern Tuscan district of Maremma. Nectar Dei, baptized with the ancient name of Nittardi in 1182, is an extraordinary Cuvee of Cabernet Sauvignon, Merlot and Syrah with a small addition of a secret grape variety which gives its freshness and a truly special bouquet. Nectar Dei is matured in French oak for 16 months. According to tradition, the first bottles of the new wine were given to the Pope Benedict XVI .
The prestigious American magazine, WINE SPECTATOR, awarded 91 points to Nectar Dei when it was first released commenting: "Gorgeous aromas of crushed berries, violets, liquorice and tar. Very complex. Full bodied, with a pretty refined palate and a long, caressing finish," while GAMBERO ROSSO writes: Deep ruby garnet hues, powerful aromas of red fruits, spices and chocolate…"
---
Olive Oil
The very fine olive oil Oliva di Nittardi is cold pressed fromhand-picked Moraiola and Corregiola olives. The much used traditional 'Brucatura' method of stripping / harvesting: is the manual harvest of olives, it is without
a doubt the best method for harvesting because it does not damage the olives; however, it requires a great deal of manual labour, raising the production price.
Immideate cold pressing following an early harvest gives the oil a par-ticularly low fatty-acid contents.
Olive oil is classified in the foloowing way and the virgin classification varies between 1degree and 4 degree
1 degree: Extra-virgin olive oil, first press with o to 1 degree of acidity
2 degree: Superfine virgin olive oil first press with 1 to 1.5 degree of acidity
3 degree: Fine virgin olive oil, second pressing with 1.5 to 3 degrees of acidity
4 degree: Virgin olive oil, second pressing with 3 to 4 degrees of acidity - limited edibility
---
Grappa
The high class Sangiovese grape-skin residue is the basis for production of top quality Vinaccia di Nittardi. Two further important criteria are the early time for distillation, and the indirect method of doing it.
After processing for wine the fresh moist grape-skins are rapidly brought to a small distillery in Piemont whrer they are treated with the traditional water-bath system. The product is a very fine original Grappa of highest quality.
---
Prices
| | Vintage | Bottle size | Gift Pack | Price £ |
| --- | --- | --- | --- | --- |
| Chianti Classico, Casanuova di Nittardi | 2005 | 75 cl | | on request |
| Chianti Classico Riserva, Fattoria Nittardi | 2005 | 75 cl | | on request |
| Ad Astra, IGT Tosacana Maremma, Cabernet Sauvignon / Merlot / Syrah | 2005 | 75 cl | | on request |
| Nectar Dei, IGT Toscana Maremma, Cabernet Sauvignon / Merlot / Syrah | 2005 | 75 cl) | | on request |
| Grappa, Grappa Vintage & Oil to follow | | 75 cl | | on request |
| | | | | |
All prices incl. VAT